Alongside a forecasted global recovery and off the back of the biggest budget tabled in Malaysian history, the Ministry of Finance (MoF) expects the country's economy to grow between 6.5 percent and 7.5 percent in 2021.
The economic community has, by and large, concurred with a recovery forecast, but is generally more conservative compared to official MoF figures. Despite the World Bank's conservatism, its forecast still sees Malaysia among the top 3 performers in ASEAN.
STIMULUS PACKAGE
In a move favouring the spurring of the economy over decreasing fiscal deficits, Prime Minister Muhyiddin Yassin's government allocated RM322.5 billion (US$78 billion) for total expenditure next year. COVID-19 stimulus packages – worth 21 percent of the nation's GDP - are expected to contribute over four percentage points to GDP growth.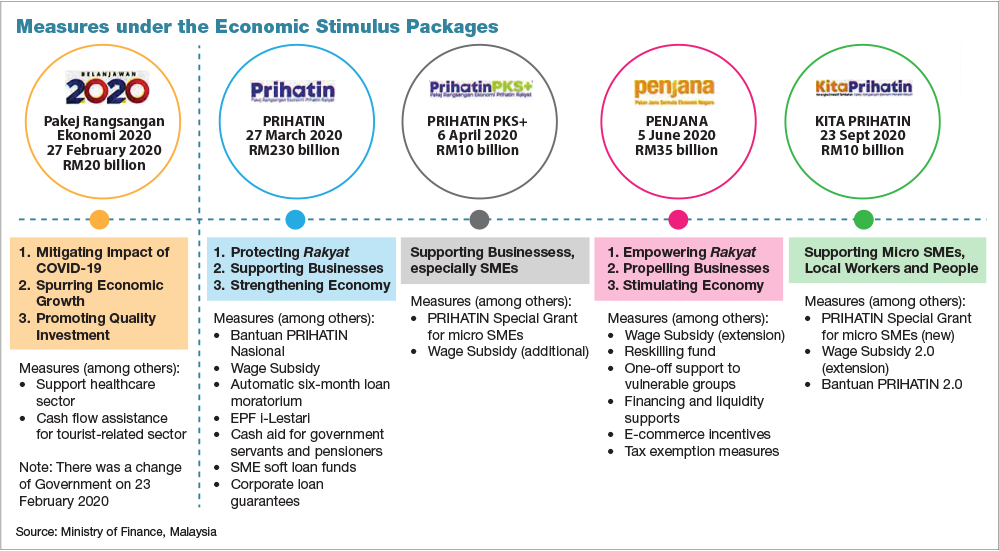 In the wake of the COVID-19 pandemic, Malaysia's GDP contracted by 8.3 percent year-on-year in the first half of 2020, a sharp reversal of the 4.7 percent expansion in the same period last year. The economy grew by 0.7 percent in the first quarter of 2020 but reached a record low of -17.1 percent in the second quarter (Q2).
However, the economy seems to be turning a corner in the second half of the year, according to figures released by the Department of Statistics of Malaysia (DOSM). A third quarter (Q3) improvement to -2.7 percent growth is promising and augurs well for the future.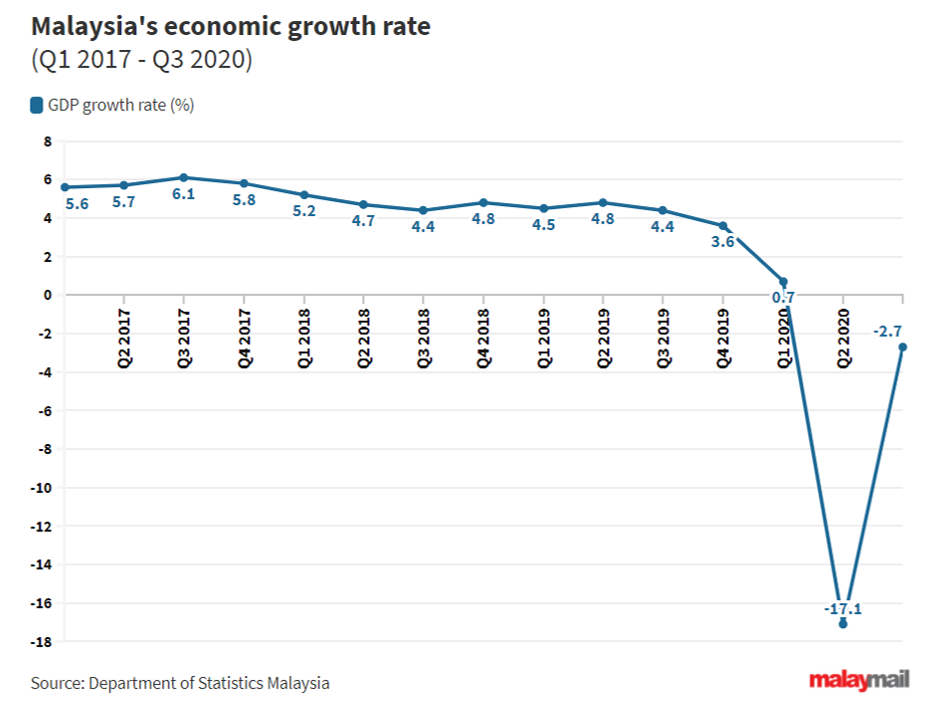 The MoF's Economic Report 2021, released last month, highlighted month-to-month economic data that also supports the case for hope, with a rebound in production and trade figures, a decline in unemployment and a recovery in private consumption compared to Q2.
Cautious optimism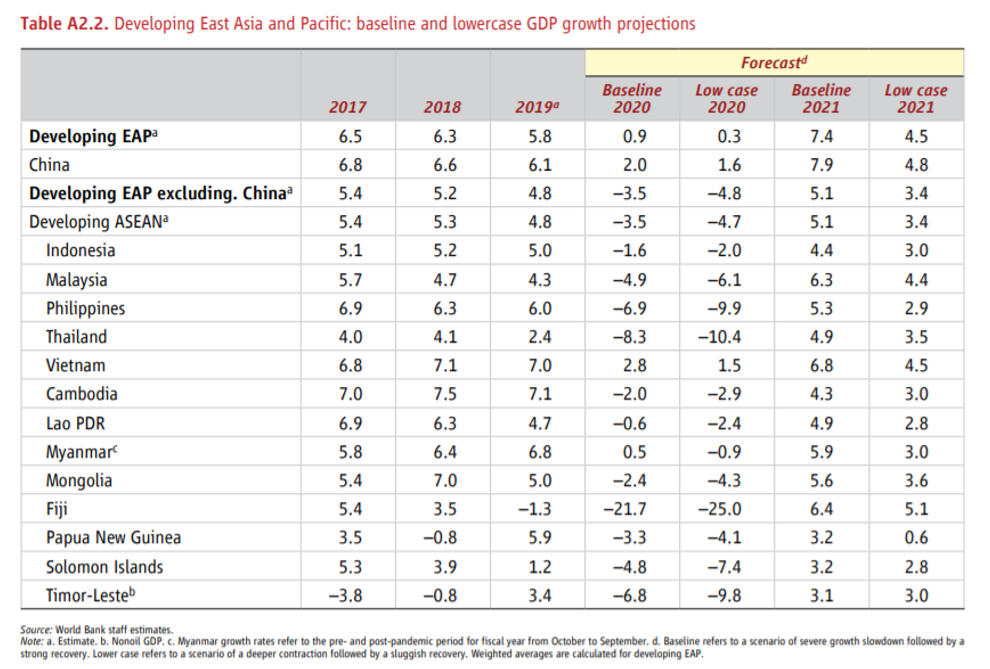 Source: From Containment to Recovery, World Bank, October 2020
"Malaysia's economy remains resilient and rests on strong fundamentals. Its diversified economic structure, sound financial system, effective public health response and proactive macroeconomic policy support suggest that Malaysia will be able to ride out the storm better than many other countries," the World Bank said in its country report in June.
Downward pressure on forecasts came mainly from uncertainties surrounding the vicissitudes of the COVID-19 pandemic which would continue to bring a downside risk.
The Asian Development Bank (ADB) predicts the lower end of the official estimate at 6.5 percent, while the World Bank offers a baseline forecast of 6.3 percent. More cautious notes were rung by Affin Hwang Investment Bank Bhd (Affin Hwang Capital)'s research note forecasting gross domestic product (GDP) to be at 6.0 percent for 2021 and United Overseas Bank (Malaysia) Bhd (UOB), which projects a growth rebound of 6 per cent.
Recently Fitch Ratings revised Malaysia's Long-Term Foreign-Currency Rating to 'BBB+' from 'A-', with a Stable outlook. Swift action by the Government to contain the fall-out of the COVID-19 crisis mitigated the substantial impact of the pandemic, but fiscal burden and other uncertainties affected outlook.
"If worldwide cases continue to rise with possible reintroduction of containment measures, no emerging markets, including Malaysia, can escape the negative impact to the global growth, especially when global economic growth could be distorted by global supply chain disruptions due to the outbreak," Affin Hwang Capital stated in their research note.
Similarly, ADB expects external demand, and thus exports, to remain weak as the global economy slows, and was wary of weak labour market conditions that would continue to dampen consumer spending. On balance, however, it was buoyant about the government's fiscal stimulus and liquidity support's ability to boost domestic demands.
Upward trends
The global COVID-19 pandemic has dealt a huge blow to the global economy, but there are signs that a future recovery is not too far off. The International Monetary Fund (IMF) projections for 2021 include global economic growth at 5.2 percent with global trade expected to improve by 8.3 percent compared to -10.4 per cent in 2020.
This is good news for export-oriented Malaysia. In an online briefing last month, Central Bank (BNM) governor, Datuk Nor Shamsiah Mohd Yunus, expects the country's economic recovery to be buoyed by these global trends. 
"Growth in 2021 will be driven by a rebound in global demand. Malaysia's key trading partners are projected to register better growth prospects in 2021," she said, adding that higher external demand will have a positive spill-over effect on export-based industries, including expected higher income and investment levels.
"Investment activity is also expected to rebound, supported by strong investment intention in certain segments and continued implementation of large infrastructure projects," the governor said.
The situation on the ground is already showing real signs of improvement, across the board in key indicators in Q3. This includes better manufacturing figures, growth in exports, improved unemployment figures and the first positive growth in the wholesale and retail sector since February, with some of these figures directly benefitting from recovery in global economic conditions.
"We should take note that recovery in the global economy is underway, economic activity has rebounded as most economies gradually reopened, and this has supported the resumption of manufacturing and trade activity," Datuk Nor Shamsiah said, while acknowledging the precarious nature of the pandemic.  
"We are monitoring all these developments and all incoming data closely to evaluate the evolving risk to our economy, monetary and financial conditions. Bottomline — the latest prognosis is that we remain on the road to recovery," she said.
---