The construction works at the TRX site is on full swing. As we move into the 4th quarter of 2017, infrastructure and plot development work continue per schedule.
To date, TRX has excavated some one million m3 rocks and soil from the site, and installed over 3KM of road tunnel and utility service network corridors. Works are currently in progress with balance tunnel works, utility service installation works and tunnel fit-out works.
The elevated CBD Loop Road Network Link, which will serve the plots for The Exchange 106 (Signature Tower), Affin Bank Bhd and HSBC, are also well under way. The waste water treatment and recycling plant, of which Veolia is the concessionaire, is in the fit-out stage.
The external elevated CBD Loop bored piling works are on-going while the underground section for the proposed connection to SMART tunnel at Jalan Sultan Ismail will start works soon. The loop tunnel, which will allow direct access to and from major highways like SMART and MEX, will regulate the traffic underground, taking visitors straight to the parking bays.
Construction for the Jalan Tun Razak Traffic dispersal project will start soon with design works currently underway. This joint effort by TRX and DBKL is expected to reduce the traffic into the city by about 30 percent. Gadang CRFG Consortium Sdn Bhd is building TRX's elevated and at-grade access connections to three major highways.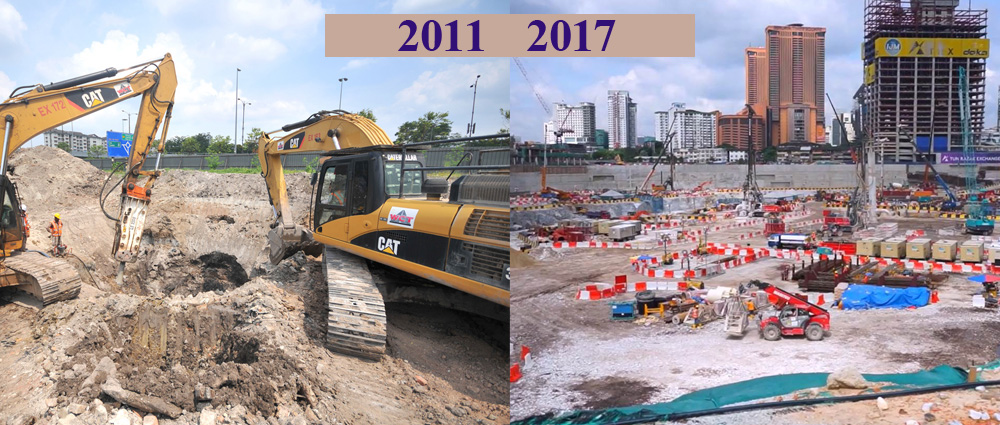 Superstructure Works continue at the Exchange 106 (Signature Tower) Plot which is now at Level 86. When complete, this building will be 106-storeys high and complement the already impressive KL skyline. Meanwhile, the 27-storey purpose-built commercial tower which will be home to Prudential Malaysia has currently completed its structural construction up to the 27th floor.
TRX's on-site MRT station is now fully operational. The 5-storeys high TRX MRT station is an interchange for both the Sungai Buloh-Kajang (SBK) and Sungai Buloh-Serdang-Putrajaya lines. The First Phase of the SBK line began operations in December 2016, and the TRX station started operation during Phase 2, last July.