"Adequately nurtured, creativity fuels culture, infuses a human-centred development and constitutes a key ingredient for job creation, innovation, and trade, while contributing to social inclusion, cultural diversity and environmental stability." - UNCTAD Creative Economy Report, 2010
Kuala Lumpur is gearing up to follow on the heels of global cities that have managed to tap into the creative and cultural industries as a vital engine of economic growth. New York City has long thrived on its creative economy, exerting a global influence on contemporary culture and drawing over 60 million tourists a year. In Asia, Tokyo has been a hub for cutting edge art and fashion since the 1980s.
The city forms the centrepiece in the "Cool Japan" strategy to reach a global market share in the creative industries worth up to 11 trillion yen (RM401 billion) by 2020. Arguably, the most successful city in harnessing the power of the creative industries has been London, where various government and municipal authorities have joined together in a creative ecosystem.
In 2012, the total Gross Value Added (GVA) of the creative industries in London reached £34.6 billion (RM188 billion), 10.7% of London's total GVA. Currently, 16.3% of all employment in London is in the creative industries, while over 30.5 million people visit the city's top museums annually. Now Kuala Lumpur – where the creative industries contribute RM11.2 billion to the country, roughly 2% of KL's economy and provides over 86,000 jobs - is jumping on this lucrative bandwagon.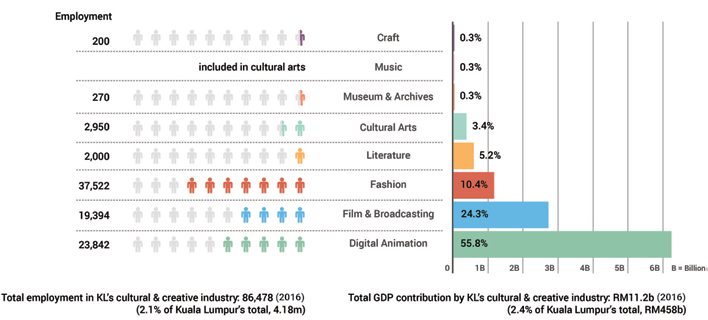 Source : Total employment in KL's cultural and creative industry (2016) 
Recognising this strong potential for growth, the 2017 budget pledged RM80 million towards the creative sector. In the same year, the Cultural Economy Development Agency (CENDANA) was formed to bring together public and private sector players to build a vibrant cultural economy for Malaysia. "In developed countries, the cultural and creative economy contributes 3%-6.9% to their nation's economy. This is the market and potential of which Malaysia can leverage on."
CENDANA's chairman, Datuk Seri Ahmad Farid Ridzuan said. "Kuala Lumpur is earmarked to be developed into an internationally-recognised creative city, which will increase the attractiveness of Kuala Lumpur and its surroundings for tourists, talent, and skilled workers," he adds. At the same time, Dewan Bandaraya Kuala Lumpur (City Hall) has allocated RM16.1 million towards funding the arts and sports.
Think City, a not-for-profit citymaking agency fresh from success in Penang, also expanded to Kuala Lumpur in 2015 to support the creation of a creative and cultural district in the downtown area. CENDANA, Think City, and other agencies like MyCreative Ventures, offer grants and direct support for creative entrepreneurs. And KL is currently hosting its first ever Biennale at the National Visual Arts Gallery, featuring 114 artists from more than 10 countries. 
The private sector, spearheaded by real estate developers, have also started to invest in culture, especially as part of placemaking to activate urban spaces and increase the competitiveness of city centre developments. 
TRX is looking to revolutionise the public realm through activating its Lifestyle Quarter and 10-acre city park with cultural offerings. Its neighbour the Bukit Bintang City Centre (BBCC) development plans will house a RM100 million, 6,500-sq-m concert hall, built in partnership with Japan's Zepp Hall and slated for completion in 2020.
The future looks bright for Kuala Lumpur's cultural sector to increase its share of GDP, create new jobs for a growing creative class, and gain an international reputation.
Tags: