KL's upcoming international financial district was masterplanned by Machado Silvetti Associates, a Boston-based architect firm renowned for their award winning urban planner project.
TRX is a 70-acre site located between Bukit Bintang and Pudu, comparable to the KLCC development in scale, and is integrating the best design standards and municipal infrastructure with social and environmental aims.
It departs from conventional wisdom of earlier master-planned developments in the city, by offering a new vision for a sustainable and efficient city, namely its commitment to public space.
TRX's masterplan emphasizes weaving this new district into the existing urban fabric of Imbi and Bukit Bintang, rather than presenting impermeable borders that some of KL's biggest developments have, which are usually built on a high plateau raised from the ground so that their enormous car park requirements are met in the podium.
TRX achieves this by having two different fronts: where TRX meet the city at its NorthWest Plaza (facing Bukit Bintang), the pedestrian connection is at ground level, leading into the central park, before the ground rise towards the financial district (fronting Jalan Tun Razak).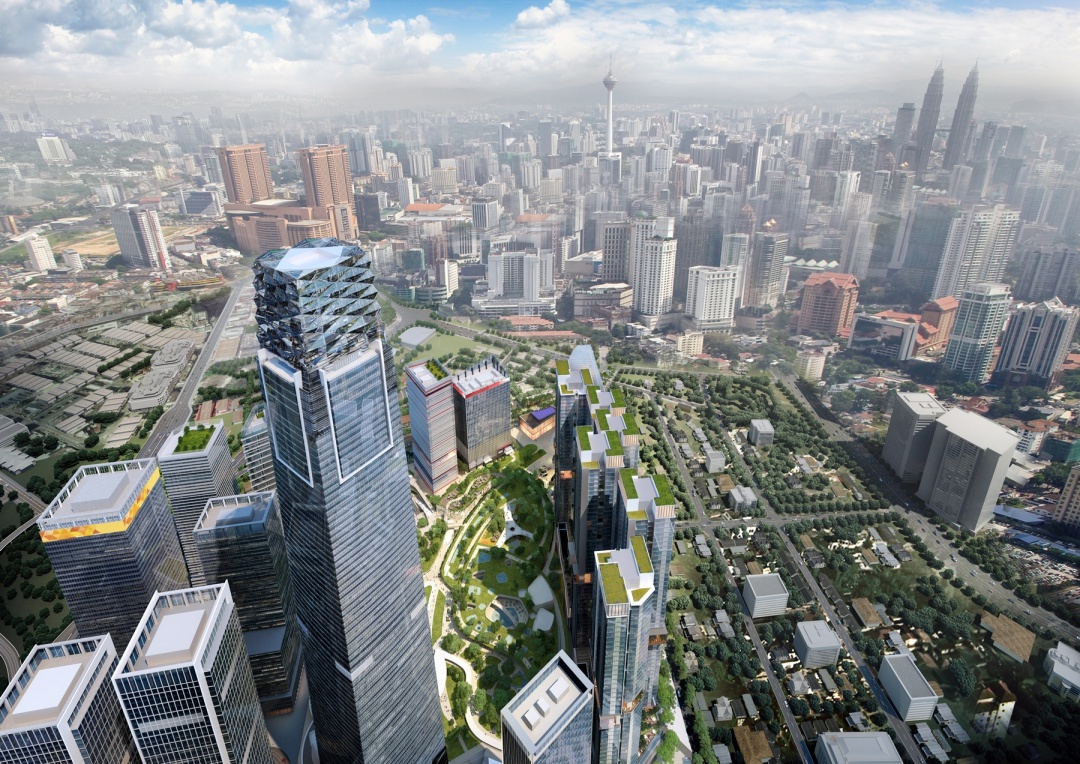 "The buildings start a little bit shorter on the northwest plaza and then they grow up in this arc around the Signature Tower, embracing the Signature Tower. When you put the tall buildings together, it reinforces the height and the signature quality of that Tower. It helps create this crescendo of form," Machado Silvetti principal architect, Jeffrey Burchard explained.
This new pedestrian-centred district has its carparks under a large and green hill that is its Central Park. The surrounding streets and pavements will be interwoven into the site through gentle slopes, panoramic urban-scale staircases and pedestrian walkways. This creates a porous urban edge that is markedly different from KL's other major developments.
TRX's public realm which makes up about a quarter of the whole development, centred around the park, is actually a green roof built on top of the mall and car park mound.
"Because of the way it's integrated into the architecture, the scale of it and the geometry of the park, it allows it to really seem like it's a park and give you the sense that you're really in a public space," Burchard said.
"There is an opportunity to really bind all of these uses together to create a place that's truly an integral experience throughout the day.
You can move through the shopping mall to get to your office. You can come back into the park to take a break. You can move down into the shopping mall to eat lunch. And then you can come back up through the tower, and then back out into the park for entertainment at night. It becomes a real place that you can inhabit over the course of a day," he adds.